Shabby 2 Chic
Posted by editor 23/01/2014
3 Comments
11472 views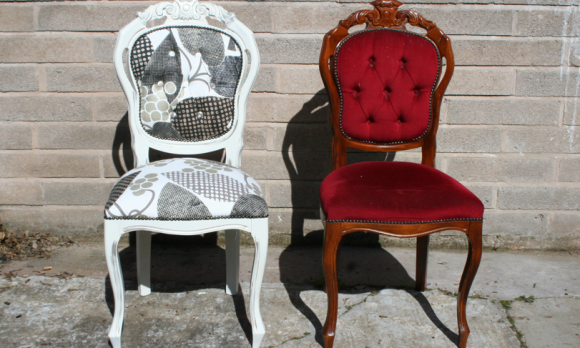 Shabby2Chic helps marginalised people – and old bits of furniture for that matter – to play a useful role in society. Danielle Aumord reports
Shabby to Chic and the Margaret Carey Foundation (MCF) certainly form a potent strategic alliance. Here's how it all began: back in the 90s, Sandra Johnson, now founder and MD of the Shabby2Chic Community Interest Company (CIC) was an interior designer creating bespoke 'up cycled' furniture, when she came across a couple of youths in the act of graffiting a car park.
"Graffiti was at that time a criminal offence, but I didn't want to call the police. I chatted to them and recognised they were talented," she explains. "They had dropped out of school and were out of work. They were both constantly in trouble with the police, and from single-parent backgrounds.
"My parents split up when I was very young and I could understand where they were coming from – I had the idea of inviting them to help me with one of my own projects. They turned up every day to help me." After just a few weeks, Johnson contacted Salford University, and persuaded her newly acquired interns to sign up for a Graphic Design course. Despite having no qualifications, and needing extra help with numeracy and literacy, the university were convinced after being shown photography evidence of the applicants' work. They both completed the course, and went on to become successful graphic designers.
Fast forward to 2009: Johnson had enrolled on a teacher training course and began to use these skills to teach 'up-cycling'  (Up-cycling' is defined by upcycling.co.uk as "the art of reusing unwanted items by converting them into something better") work to what she describes as "marginalised groups of people" who would attend her freshly launched Shabby2Chic training programme.
Within the workshops the team would rescue scraped wheelchairs and bicycles as well as old furniture. Participants would then 'recycle' and 'upcycle' these items to a high standard. The refurbished items were then donated to people in need both nationally and abroad in developing countries overseas.  Shabby2Chic expanded by working with organisations such as Emmaus (a charity for homeless people), Recycling Lives (an organisation working with ex-offenders), the Prince's Trust and various youth offending teams in the North-West of England.
Then, in 2013, Johnson's team were approached and commissioned by MCF to put together a training programme within a youth-offending team based in Newcastle. Katy McCormick, Business Development Specialist at the MFC, explains: "We give offenders the opportunity to pay something back to society and to learn new skills as they serve their sentences. Also the projects benefit the environment and help communities in need at home and abroad."
On top of this Johnson estimates that through their work 40 tonnes of furniture from landfills have been diverted. They also retail their up cycled products through five charity outlets as well as receiving commissions from both interior design companies and private retailers, making their CIC sustainable without any outside funding. "Its rewarding to help people from marginalised backgrounds to develop creative skills. I am a great believer in art therapy," says Johnson, her bright eyes glistening.
"These people have so much more potential than they ever realised. It's wonderful to be a part of the process of building their confidence and self-esteem, and ultimately opening new doors for them in the future to become self-sustainable in upcycling and selling their own creations. It doesn't take much to see the potential of using discarded rubbish to be developed from rags to riches. Any individual with our training will become self sustainable and build their own future."
www.margaretcareyfoundation.org.uk
@MCFworks
furniture recyclingMargaret CareyMargaret Carey FoundationShabby2chicsocial enterpiseupcycling
This site uses Akismet to reduce spam. Learn how your comment data is processed.
Categories