Youth against crime not crime against you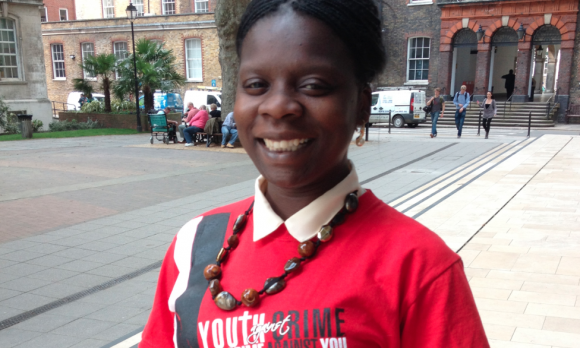 By Figen Gunes
 "Youth against crime not crime against you" (YACNCAY) was set up by award-winning philanthropist Dr Bernadine Toyin Idowu to steer young people away from street crime. Her approach is to get involved in communities and she is setting up an innovative peer-to-peer mentoring scheme.
 "How many parents say to their children everyday they love them and how many parents are aware of their children's whereabouts and who they are with?" asks Idowu (pictured above). "How many parents have an idea of the content of the gadgets they offer or buy for their children and understand the likely impact of these gadgets on their children?"
YACNCAY is in touch with children throughout London, and operates as part of the Mayor of London's mentoring scheme Team London. They are very community based, working with a number of other charities and agencies to get their message across.
Idowu's organisation, in collaboration with author Eze, is planning a major event – Children Follow Where Adults Lead – to be held at the King's College, London, aims to remind people of their collective responsibility in ensuring that children are well nurtured not only in the home but outside of it as well.
"According to Eze Nacho, author of  Your Child, My Child, Whose Child, children only learn through what they hear or see," Idowu goes on. "They then replicate, enhance or reduce it.  I think simply some parents are too busy with their daily work and other activities to know what their children are up to."
YACNCAY was set up after the tragic shooting and burning of 17-year-old Samuel Ogunro in a car in Peckham in June 2010. Since then, Southwark and Newham Police have supported the organisation financially to reach youngsters through their events. The charity's ethos is: pray, inspire, promote and educate (PIPE) young people. 
Although working as a medical researcher, Idowu will also be starting YACNCAY's pilot peer-to-peer mentoring scheme at the Kingsford Community School in Beckton, headed by Ms Joan Deslandes, who has been a great supporter of YACNCAY since early 2012.
The founder believes the many charities dealing with youth crime need to join forces in order to make a greater positive impact on young people's lives in London. She has a mission to bring together all organisations working against youth crime in the city, to share and work out an agenda of collaboration in order to stem the blood flow on streets caused by youth crime.
Children Follow Where Adults Lead, Guy's Campus, King's College, London is on September 21, 2013