Pantrepreneurship Challenge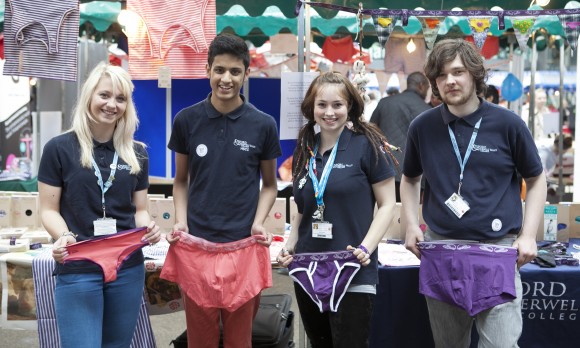 By Figen Gunes
Flashing pants in a local market to sell may not sound appealing to many youngsters.
But teams of young social entrepreneurs were motivated for a socially conscious task; improving fair trade through 'Pantrepreneurship Challenge', a national student enterprise competition.
"Some customers said they can get hundreds of pants from Primark for that price. We said: 'buy into a cause not just a product'," 19-year-old A-levels student Chris Stores from the winning team recalls.
The students aimed to transform working conditions of fair trade farmers in India by sourcing their cotton through ethical company 'Pants to poverty' while learning entrepreneurial skills in real life situations.
As many as 560 budding entrepreneurs across the UK took part in every stage of pants designing and selling in their teams as they collectively believed 'poverty is pants'.
Through the challenge, £27,000 was made £5,500 of which will be going to support the work of the Pi Foundation which work on to release children from bonded labour working long hours in hazardous conditions in south east India.
Five best teams were given a chance to sell their stocks at London's Old Spitalfields Market on final day before pitching their business plans to a panel of experts made up from enterprise gurus namely Ceri Jones head of policy at Social Enterprise UK, Enterprise Editor of the Mail on Sunday, and Anthony Johnston, curriculum development co-ordinator at the University of Arts.
Champion team of the challenge was Fairwear from MiddlesbroughCollege and they can now look forward to a trip to India this autumn to meet the farmers to understand the fair trade process first hand.
The winning team stormed to victory after raising £5,000 by selling underwear each priced at £9,99, targeting up-market buyers and even run out of stock before the final day.
The challenge was organized by Gazelle Colleges which is an association of 20 further education colleges across England, Wales, Scotland and Northern Ireland , that is committed to embedding entrepreneurship into their colleges.
Gazelle is well-known for throwing their pupils into real-life situations for firsthand experience. In North Hertfordshire, their students took over a local paper for a week and a Novotel hotel branch for a weekend to engage running a business.
"There are not enough entrepreneurial ecosystems. We work on creating a better match between the needs of businesses and college training," Fintan Donohue, CEO, Gazelle Global says.
"Best ways for the UK economy to recover can be through helping more students to be confident to become self-employed," he adds.
They felt it was vital to foster a new generation of social and commercial entrepreneurs who can add value to communities, bring innovation to existing businesses and who can create their own employment with confidence and ambition.