Highland Blindcraft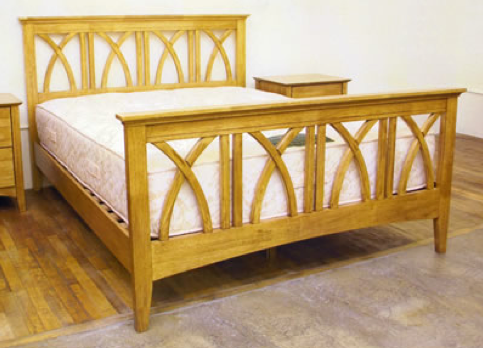 Jenny McBain visits a social firm with a long history and finds herself becoming a customer.//
After a quick lie down to put a mattress to the test in the Highland Blindcraft showroom, I was soon happily completing a purchase in anticipation of comfortable nights to come.
This is the way the very best social enterprises operate. They do not have to play the sympathy card. If products are of sufficiently high standard and being offered at a price which represents good value, then customers will happily part with their cash.
And people like me who are willing to eschew the apparent bargains in heavily discounted high street stores are rewarded by the knowledge that they are helping an ethical business. Denise Clark is executive manager of  Highland Blindcraft. She says, "there is a shift in public perception. I think a lot of people purchase from us because we are local and because the price is very reasonable. We are not the cheapest but we what we sell is good quality and people appreciate that."
People tend to think of social enterprise as a modern invention but that is not the case. A hundred and forty years ago the church concerned itself with making provision for blind parishioners. At that point a residential school was established in Inverness where people could come from all over the Highlands and Islands to learn how to read brail. Setting up a business to provide jobs for people with visual impairments was a natural progression and that is how Blindcraft started.
"Blindcraft is a socially responsible business which was established long before social enterprise became a modern buzzword," Clark says. "We employ 19 people who have some sort of disability. There are no volunteers here. When a vacancy comes up we will consider anyone regardless of any disability they may have. We just make allowances for people. One of our employees is deaf so everybody has learned some sign language and others need better lighting because of visual impairment.  People with learning difficulties sometimes have to have things explained in a simple way with lots of repetition and they may need pictures instead of written instructions if they are unable to read."
Behind the showroom, workshops and offices are laid out over several storeys. Employees are hard at work assembling bases and sewing fabric covers. A guide dog rests in a basket situated in a corridor. He patiently awaits the end of the working day at which point he will help his master navigate the way home.
These are not short-term jobs or voluntary positions. Everyone is paid a proper wage and there is an expectation and a requirement that people turn up on time and focus on the job in hand. One employee, Evan, who has no sight at all, has worked here for 36 years. He expertly places layers of filling on top of mattress springs and covers them with a fabric casing.  Clark is a fan: "Evan is inspirational. He loves his work and has never been known to take a day off. Even when there is snow on the ground, he takes the bus into town and walks up here and he always has a positive attitude."
Another employee came to Inverness from the Western Isles as a teenager to work at Highland Blindcraft. She is now married with two children and continues to work here. Of course, keeping the business going is a constant challenge as Clark acknowledges: "In the past there were lots of grants and funds available but that's just about all gone now. However, we are still going strong and still doing well. Whatever comes our way we can keep going and continue. We are providing good jobs for people and that has a positive knock-on effect for their families and communities."
In order to make sure the business is sustainable in the long term the staff at Highland Blindcraft are happy to provide bespoke products such as an extra large 'honeymoon' bed for a luxury hotel and they are willing to take on large contracts in the private or public sectors. They are also looking to develop a high end mattress containing cashmere.
All the company's products have a certain solidity and air of quality about them, a perception which  is supported by customer feedback: "Customers come to us and say our beds have lasted 20 or 25 years," Clark says.
Music to my ears.  I trust my outlay for a double mattress – including delivery – is money well spent.
.