The Spirit Of The Streets Choir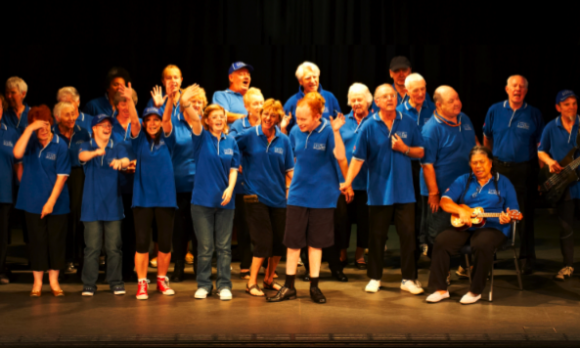 The Spirit Of The Streets choir was borne out of the struggles of its founding members, discovers Danielle Aumord
Originally called the 'Big Issue' choir, the Spirit Of The Streets (SOS) choir was formed by singer-songwriter Bernard Carney and locally based vendors of The Big Issue Australia magazine based in Perth, Western Australia (WA). The name change was drawn out of inspiration from the supportive, family-like atmosphere within the choir which one of the founding members likened to the kinship he experienced with other roughsleepers whilst living on the streets. The choir has a strong focus on recruiting persons who are socially disadvantaged, although people from all backgrounds are welcome to join.
Each individual here has their own personal story to share and at performances they often tell the audiences of their journeys through mental illness, disability, substance abuse and homelessness.
Musical Director Carney himself has suffered with mental health issues: "I've had an insight into life on the inside of a mental illness and the knock-on disruption it causes in just about every area of living.
"(Through the choir) I get a great joy out of seeing people achieve stuff they never would have otherwise done – singing and talking in front of rooms full of people, telling some of their life stories and feeling as though they belong to something good. I also have a greater understanding of homelessness and how easily it can happen."Through music and friendship, the choir members testify to improved self-esteem and confidence as a bridge across the gap that has so often disconnected them from the wider community. "It's doing something to help other people, but you are feeling good yourself", says volunteer member Judy.In 2008, SOS, performed at a sell-out concert to 2,400 people at the Perth Concert Hall in WA. The concert bought the choir recognition, which has been building ever since.
With around 50 members, they now perform 40-plus gigs each year at both corporate, private and community events. "The more gigs we did, the more people joined us and the more gigs we got. I've learned to be more patient because I've been so busy (with all the gigs we do),"says Musical Director Bernard Carney, as he lists some of the benefits of his involvement with SOS.
They became a registered incorporated not-for-profit charity in 2010 and rely on performance fees, grants and donations to survive. Ultimately Carney would like the choir to become what he describes as "financially sustainable and to continue to be a going concern. "I  just want it to continue moving people's lives along being inclusive and sharing the joy of music with the less fortunate in the community," he concludes, as he outlines his future hopes for the choir that has already provided a refuge and a source of hope for many troubled souls in WA.