Building Lives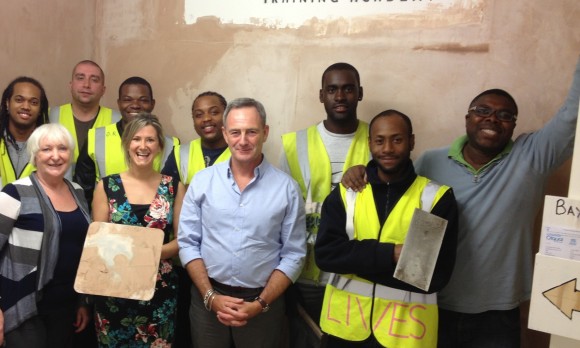 By Figen Gunes
It's the middle of a tour of a life-changing apprenticeship academy; the guide is the multi-millionaire founder of the award-winning social enterprise: Building Lives. But he crosses a line by opening a door to an exam room. "Keep quiet. Close the door," says the teacher as we are ushered out. Steve Rawlings just smiles. 
"All of my life, I mastered how to earn more and more money, but now I found something more rewarding," says the community focused businessman, "changing lives."   
Seventy-eight per cent of trainees moved into full-time employment having completed the course since the not-for-profit academies was set up in 2010. The difference between a normal college and Building Lives is that the young participants do paid work experience with companies and build relationships with potential employers at every stage.
Four academies based in Camden, Camberwell, Hackney and Sutton are already active and three more are planned later this year.
The academies are local partnerships, seen as training agencies for the whole construction industry. Rivalry in the industry has been turned into partnership as Rawlings' former business competitors including Mulalley and Mansell use the academies' services and employ graduates. The founder believes he has a model which works and the aim is to have one in every London borough.
"We all know how much unemployed youngsters cost to tax payers when they are out of school and not working but getting into trouble. We get trainees from families unemployed for three generations. The biggest task for them is being on time as no one taught this at home. We teach them and knock them into shape," he adds.
Rawlings left school with two O-levels and got a job as an apprentice roofer before starting his own construction company, Lakehouse. Today it employs over 540 staff and last years turnover was £154 million. Recently it built the 2012 Olympic Equestrian Centre. After winning his biggest contract — a £200 million project over 10 years with a London council — Rawlings decided to "give back to London", one part of which is to increase the numbers of women working in the construction industry.
"I'm becoming bigger, a bit more manly," says 17-year-old Madison Spicer, from the Kingsgate Estate, Hackney, with a big smile on her face. "You can tell the difference. It's a bit weird. Before, I was only going to school not even joining PE sessions. Mornings are a bit shock for my body. But I'm getting into a habit." Women trainees are seen as trailblazers at the academy and Madison says she likes every aspect of the training – apart from plumbing as "it's a bit of a dirty job."
The academy Madison attends is nestled in a corner of Summit Estate in Stamford Hill at a former run down community center donated by Hackney Homes. Building Lives Hackney is an inspiring social enterprise that offers NVQ Level 2 in maintenance operations apprenticeship programme to unemployed people in the area.
"Subcontractors such as Spicers and STV have been hesitant to take up apprentices as they are not sure if they would be focused and resilient to deliver the job," Rawlings goes on. "It might have been risky for small private business to employ them directly but we are now mediators."  
Construction companies all claim they are different and they are the cheapest, says Rawlings, "but we are all the same. If they listen to residents' comments and create women-only building teams, that will make them stand out.
"Women make up only one per cent of the construction industry because people think the heavy work is not suitable, but half our work is refurbishment of social housing which does not require heavy lifting – and besides I find women builders are much better at interacting with tenants than men."
Almost like a surrogate parent, he does pep talks with youngsters. Tutors prepare breakfasts with apprentices, and the whole team goes that extra bit to help them turn their lives around. Shockingly, a large number of young people who come to the academy – around the age 17 – can't read and write. "It's appalling to find out that 12 years of state education are not teaching them how to read and write," he says.
Basic maths and language skills are taught during 18 months of training along with brickwork, carpentry, plastering, tiling, painting, roofing and brickwork.
Rawlings plans for the future include opening his doors to ex-servicemen and ex-offenders to serve excluded communities better and he hopes more business rivals will join him in his efforts to change people's lives.