The Cycle Hub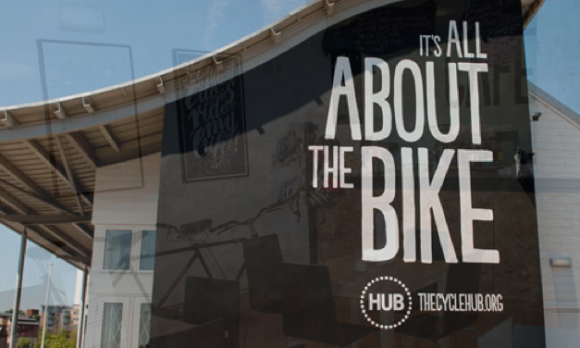 An innovative project, The Cycle Hub, hopes to make cities and cycling more accessible, discovers Andrew Burns. //
During the last year, cycling groups, businesses and the local authority in Newcastle have come together to ensure that the city is deemed "fit for cycling". One specific organisation that has been crucial in achieving this ambition is The Cycle Hub – a social enterprise co-founded in 2012 by Newcastle Cycle Centre and holiday company Saddle Skedaddle after the two groups saw the need for a place where Newcastle's growing cycling community could meet after a ride.
Earlier this year The Cycle Hub threw its weight behind Newcastle City Council's application for a £5.6m government grant to help improve cycling facilities in the area, and it was confirmed in the summer that the North East city had beaten more than 20 other UK cities to win the funding. With the cash in place, the council has designed a 10-year plan to improve and promote cycling, something The Cycle Hub will be helping to drive forward.
"This was brilliant news. Anything that can get public funding at the moment is great," says Emma Hallington, marketing officer for The Cycle Hub and Saddle Skedaddle. "We are working with the city council and keeping them in the loop with what we're doing, and it's a very exciting thing to be a part of. It's great for all things cycling in Newcastle.
As well as promoting and facilitating cycling in Newcastle and across the coast-to-coast cycle route, the Hub offers a shop for buying and hiring bikes, a repair workshop and a cafe, a place where all sorts of cyclists regularly meet whether mountain biker or Bmx-er, single-speed aficionado or road purist.
"We are there to make cycling more accessible in the city itself," says Emma. "It was identified that there wasn't really anywhere in Newcastle that could act as a focal point for cyclists. There wasn't a hire place and there was always a great pressure on workshops for bike servicing."
With the concept of The Cycle Hub shining bright in the minds of industry experts from Saddle Skedaddle and Newcastle Cycle Centre, they turned to Big Issue Invest to help get their feet off the ground – and firmly on the pedals. Within a few short months of receiving a Big Issue Invest loan, The Cycle Hub was up and running in a move that created six new jobs and brought a focal point for cycling to Newcastle, with a state-of-the-art facility on the banks of the Tyne.
"The Big Issue Invest loan was instrumental in getting us set up and establishing The Cycle Hub," Emma says. "Without it we wouldn't be where we are."
While cycling routes in Newcastle and other major UK cities still lag well behind countries such as Holland and Denmark, there is no doubt that interest in cycling has grown massively. British glory in the Tour de France and the Olympics ensured that cycling has been thrust into the mainstream, and the interest and passion is now so strong in Britain and across Europe that, for the first time since the Second World War, bikes are outselling cars in nearly every member country of the European Union.
While in London currently only about two per cent of daily trips are made by bike, and cities like Newcastle, Birmingham, Manchester and Glasgow are playing catch-up, the wheels are rolling forward, insists Emma. She says: "We're still a long way off countries like Holland but we're working in the right direction, as demonstrated by the government awarding this type of funding."