App Factor at Queens Park Community School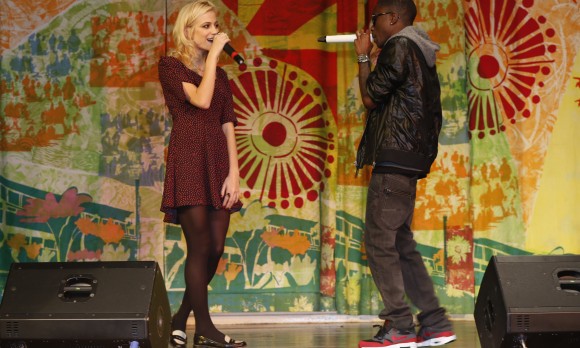 HOW TO GET KIDS INTERESTED IN APPS AND SOFTWARE //
On Friday September 7, Queens Park Community School (QPCS) walked into the first day of school and found that not everything was as we'd left it. Scattered around the school were odd little logos with a big "A" and some weird gibberish in the middle. Despite our pestering, none of the teachers would say what was going on.
It remained a mystery until finally, on October 16, all was revealed in a massive assembly. That gibberish? Turned out it was an anagram for "Pixie Lott and Tinchy Stryder" who appeared – amid screams and cheers of shock and delight – on our very own school stage, and gave an exclusive performance! (pictured above)
They were here to help Brian Rose, MD of Universal Music's UK Commercial Division, and Noam Sohachevsky, founder of MintDigital, announce a new competition: The QPCS App Factor. In this competition, students from QPCS alone were challenged to create a Music app. The details were our choice, we had the freedom to take it wherever we wanted, as long as it was related to music.
And the stakes for the competition were high. We were fighting for the chance to win top-quality Beats Solo headphones, go to Universal Music London Headquarters, and best of all, have our app professionally developed for iOS or Android with full intellectual property rights remaining with the winning students.
The race was on. Over 400 people entered, but as the months passed, the list got shorter and shorter. Out of the hundreds of ideas submitted, from games to guitar guides, karaoke to keyboards, from mixers to metronomes, a final list was selected.
These seven finalists, carefully chosen by teaching staff, included an app to help you create clean versions of your favourite songs; a rap competition app; one to help you compose top-notch professional music scores; a lyrics quiz game, and so on
On March 27, the finalists travelled to Universal Music's glamorous HQ to pitch their apps to a group of expert judges and on April 30, two of the judges came in to give the news that the winner was NoteCity, a fun game where you have to tap to the beat in order to progress through a series of challenging obstacles, gaining power-ups and points along the way.
The creators, Finn and Laura, will go on a week-long workshop with professional help to develop their app, and then pitch it to a major company to have it marketed and sold on the app market. Coming to an app store near you!
By Isaac Treuhertz
http://http: www.umusic.co.uk/umusic-blog/appproject
www.qpcs.brent.sch.uk/index.php?i=378