News Digest – 11/7/13
Posted by editor 12/07/2013
0 Comment
3094 views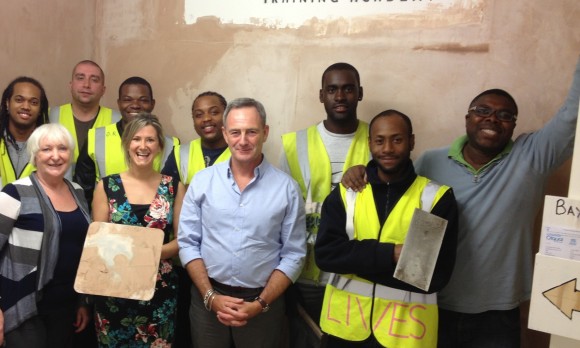 SIX NEWS UPDATES featuring Building Lives (above), Nominet Trust, Belu, Action For Children and Alston Moor
BUILDING LIVES CONSTRUCTING CAREERS – Building Lives, an award-winning construction training academy (above) has joined the Department of Work Pensions youth pledge, promising further employment prospects for young people. The social enterprise launched with the 2011 rebrand of the notorious Arlington House hostel. Building Lives now boasts 5 projects in different Greater London areas. Among its partners in the £1bn funding pot are Microsoft and several other social enterprises. Building Lives CEO Steve Rawlings hopes to see more apprenticeship schemes such as this.
BELU WATER NOW AVAILABLE FOR WATER COOLERS
Bottled water  company Belu, which donates 100% of its profits to Water Aid, has partnered with Zepbrook to make its 100% carbon neutral water available in 18.9L bottles to fit all types of water coolers. The most ethical water brand in the UK, Belu uses the highest level of recycled materials for its products, aiming to generate profits that are used to fund Water Aid's clear water projects worldwide. To find out more, visit the Belu website.
NEW APPROACH TO 'CRISIS INTERVENTION' – 'Action for Children' will receive financial investment worth £825,000 from the 'Big Society Capital' to enable them to provide intensive, early intervention work for 380 vulnerable young people aged 11-16 years in Essex, who are at risk of being taken into custody or care. It's hoped that participants will stay at home and that their family relationships will be strengthened. Another aim of the project is that the young people would develop skills to enable them to cope better with a crisis.
CUMBRIAN TOWN LEADS ON SOCIAL ENTERPRISE – The remote Cumbrian town of Alston Moor has beaten stiff competition to become the UK's first "Social Enterprise Town", in recognition of the way the Council develops and protects its local economy.  The  town works with nearly 20 social enterprises, supporting over 50 jobs. Shadow Civil Society spokesperson Gareth Thomas said the town "could be the trailblazer". The award, from Social Enterprise UK, which represents many of Britain's social enterprises, was sponsored by The Independent on Sunday.
MEDIKIDZ RELEASE NEW DYSTONIA MANAGEMENT COMIC – Medikidz is a global comic book initiative set up by a group of doctors to explain various medical illnesses to children. Their latest addition aims to educate children living with Dystonia, their carers and families in a new and fun way. Dystonia is used to describe uncontrollable and sometimes painful muscle spasms, caused by the incorrect signals from the brain and effects at least 70, 000 people in the UK. To get your copy of the Medikidz book head over to The Dystonia Society's website.
EMPOWERING PEOPLE USING DIGITAL TECHNOLOGY – The Nominet Trust is calling for people to submit examples of digital solutions to social problems, for a chance to be in the best 100 list. Nominet trust funds tech ideas for social good internationally including Nigeria, Kenya, Bangladesh and the UK. The NT100 aims to inspire and encourage social innovation. Submissions must be received by August 16th 2013. Contact- NT100@mnominettrust.org.uk  or via twitter #NT100
Action For ChildrenBeluBuilding LivesEssex County CouncilMedikidzNominetSocial Impact Bond
This site uses Akismet to reduce spam. Learn how your comment data is processed.
Categories