Elephant Branded
Posted by editor 29/10/2013
0 Comment
3595 views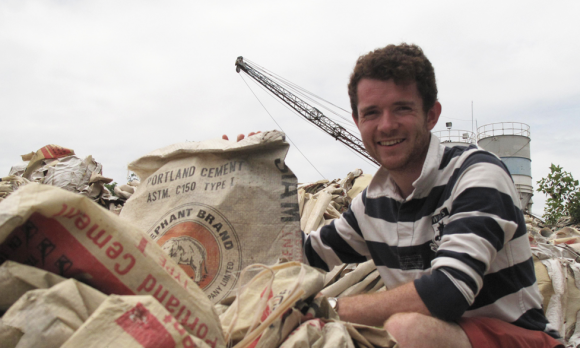 Cool, funky bags made from recycled cement packs in villages in Cambodia are soon to be filled with women's stories with an aim of informing buyers about the social aspects of the production. Figen Gunes finds out more. //
Elephant Branded, a social enterprise creating employment for widows and vulnerable women in Cambodia, is soon to provide buyers with the background stories of the bags' makers in bags sold in major UK department stores such as John Lewis.
"A lot of people think the bags are cool, graphical and they don't realise they are buying ethically produced products," says James Munro Boon, the founder and also winner of Google's 'Zeitgeist Young Minds' competition.
The global social enterprise donates one school bag and a kit to a child in Africa or Asia after each purchase in other parts of the world and the organisation was named as one of the 25 most ethical companies in the UK by the Independent on Sunday in a recent list.
The idea was developed by Munro Boon while he was at Bath University studying towards his Masters in Architecture. He went to an African country as part of his studies to build a school for local kids. On the first day of the school, one of the kids came in with a big blue toothbrush and a piece of newspaper in his hands which he found by the road. James says it stuck with him and wanted to give something positive to kids from less privileged backgrounds.
James then met his business partner Tim while studying at  university and last year friends Alex and Kate joined their company. All in their early 20's, the Elephant Branded is run by these four people across the world through their smart phones.
James is based in Hong Kong and the delivery operations is run through an automated warehouse located in Bristol. "We used to run to the Post Office and pack up bags ourselves. Now, we pay the warehouse which saves us all the hassle," he adds.
Their current range of products is made in a little village in Cambodia and they have new ranges coming in from Columbia for Christmas, again all handmade using the same model as in Cambodia, which is exciting for many. Zips are sourced locally so not only children but local businesses benefit as well.
Ninety two women are currently employed by Elephant Branded. They are provided with basic sewing machines and they work towards owning a higher spec machine. Most of the workforce can't read or write and don't have bank accounts so Elephant Branded organises their payments locally. Two of the women who started with the social enterprise have recently found permanent jobs in the city centre in Cambodia.
The social enterprise has developed a network of reps selling the products in universities throughout the EU. Plus, they are sold in 14 John Lewis branches including Oxford street, as far south as Southampton and as far north as Aberdeen. Orders can be made via the website also.
This site uses Akismet to reduce spam. Learn how your comment data is processed.
Categories