Deptford Renewal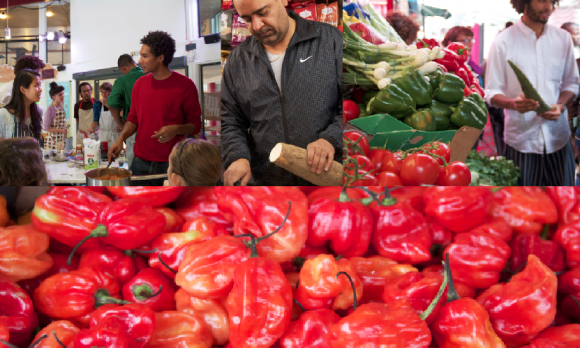 Deptford, in south-east London, is a place of immense cultural diversity. Danielle Aumord samples a new scheme aimed at regenerating the local market.//
The diversity of this part of the world is richly reflected within the friendly local traders. It's also an area going though much transition. The market and local shops suffered a decline in the 2007 economic crunch which is still being felt by the local economy.
But the roads are in the process of being touched up, new housing projects are being developed by private investors and Lewisham council, and soon there's going to be quite a few new faces in the neighbourhood. Understandably there's concern about local traders being pushed out to make way for shops that might have a fancier appearance with all this new blood entering into the locality.
In light of this, social enterprise the Greenwich Co-Operative Development Agency (CDA) are making strides to combat this with local culinary tours of the market and the high street incorporating cooking workshops and pop-up restaurants. They recently organised a West African food tour co-hosted by local chefs the Ground Nuts, and have a forthcoming Caribbean food tou,r to which the tickets have already sold out. Vietnamese and South Asian cuisine have also featured.
"There are two major housing projects in development locally. Chinese developers, Hutchinson Whampoa, are building 8,000 new flats and there's also the Deptford Projects which is being designed by architect Richard Rogers, and the conversion of the former Tidemill School," says Clare Pritchard, co-founder of the Greenwich CDA. "We want new people moving to Deptford to also love it [like we do] and to want to use what's here.
"The Mayor of London and Lewisham Council have provided funding to redevelop the High Street, to help it thrive, and as a part of that they have engaged us to run these tours and cultural activities to celebrate local food stores and market holders."
Pritchard is passionate about the essence of Deptford being preserved as she goes on to explain that 60 per cent of local people live in social housing: "Whilst it doesn't cost a lot to have a good quality of life in Deptford, if the market and local stores were to die out, affordable food would be less available."
Local resident Angelique Golding, 42, who attended the West African food tour, came along to revive her interest in the market. "I got stuck into going to the supermarket. Now I want to get back into purchasing fresh food from Deptford market," she says with a dreamy smile. "I used to come here with my mum. It reminds me of my youth."
The tours are free for now, with a refundable £10 deposit through the Grub Club. This deposit is then refunded upon attendance to the event. The Greenwich CDA have forthcoming haberdashery tours planned for the New Year, and run a monthly food fair in Giffin Square. The fair features many food types not otherwise readily available including veggie grub, specialist cakes and breads with contributions from local traders such as Deli X and the Vietnamese outlet Lai Loi. It also features musical entertainment.
They have also offered a market trader training programme where new traders have learnt to market their businesses more effectively, particularly within online forums and through local websites such as 'My Deptford High Street'.
Why not check them out? Essentially the majority of their events are a foodie's dream-come-true combined with a positive cause – to promote Deptford's cultural benefits for celebration, and in turn to help this riverside community to thrive once again.
http://www.mydeptfordhighstreet.com/
@thegroundnut