Cafe Art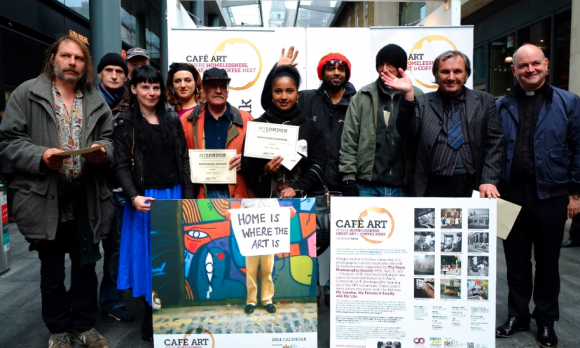 Art, social impact and coffee go hand in hand with Cafe Art. Danielle Aumord checks them out
Welcome to Cafe Art. It's a bit cool, kind of hip and this little initiative has a heartfelt mission to it. Homeless artists have developed their own 2014 calendar for sale, with a focus on the theme 'My London, My Friends & Family and My Life' with the final pick for the calendar being selected from a competition supported by 'The Royal Photography Society (RPS). Last summer one hundred single-use Fujifilm cameras were distributed to participants at St Paul's Cathedral, with photography training given to them by RPS volunteers, and just five days to shoot for the chance to be selected for the final edit for the calendar.
These calendars have been in production since 2012 and the mission here is to connect persons affected by homelessness with the general public through the development of their own artwork. "We help bring out the creativity and talent of these individuals to a wider audience," explains Michael Wong, project coordinator at Cafe Art. "They know that they are not alone in their personal path to recovery (from homelessness) as the public can celebrate their achievements with them. It also encourages them to engage in other activities through a sense of personal satisfaction and self-belief."
Wong chronicles the process of rehabilitation that clients undertake: "The more active they are in developing new skills, the more confident they are on their journey to independence, and integration back into the community," he adds.
There's also an entrepreneurial aspect here. The artists involved can buy the calendars they've helped to produce for five pounds and sell them on for ten pounds enabling them to make one-hundred per cent profit on their transaction. Wayne Goodman, one of the participating artists, sells his batch of calendars outside St.James' Church, Piccadilly. "Unfortunately I'm a rough sleeper, though I tend to use the night buses rather than sleep on the floor," explains Goodman. "I've been homeless for just over a year, this is the second time I've been homeless. The first time was for a longer stretch of time, almost seven years.
"Partaking within this project helped me to survive at a time in my life when I had no other income, it kept me afloat. Also the training helped to improve my knowledge in the area of photography."
Cafe Art also sources independent cafés to host art workshops for members, to display and sell the produced works, with 100% of the proceeds going to the artists. It's a worthwhile cause to support: a project that helps its participants not only to develop creatively, to build up their confidence and self-esteem, but also to cut their teeth in the often daunting world of self-employment.
The calendars can be bought direct from the vendors at Cafe Art's stalls at Camden, Piccadilly and Spitalfield's Markets, as well as being stocked at the Daunt Bookshop (Marylebone), The Photographers' Gallery (Ramillies St, W1), Stanford's (Convent Garden), Saatchi Gallery, St Paul's Cathedral, Southwark Cathedral and selected cafes.
www.cafeart.org.uk
@cafeartuk