Inverurie Community News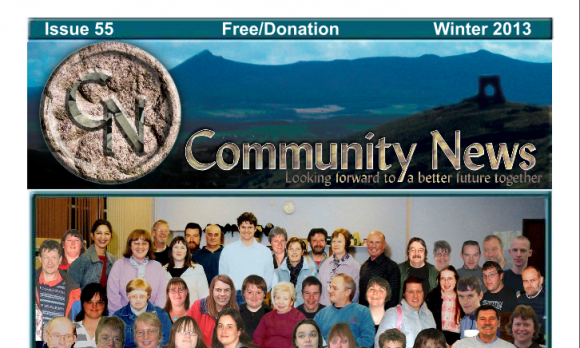 Jenny McBain discovers a community newspaper put together by people with disabilies.
It is a busy editorial meeting in Aberdeenshire and the paper's contributors are keen to pitch their ideas for the next edition of Inverurie Community News.   It is a scene that is replicated at newspapers and magazines across the entire British Isles.  However, at second glance it is clear that these workers are making a valuable contribution to a creative endeavour at the same time as living positively with disability.  Most are in wheelchairs and many have learning difficulties.
Matthew Hartwell is the project worker charged with running this community newspaper.  He says, "People need somewhere to go and we try to model an office environment. Because this is a quarterly publication, we can't really cover breaking news stories, so we tend to focus on features."
The paper distributes 4,000 copies and is also available online.   It does not have set cover price but donations are sought.  The latest edition features Scotland's First Minister, Alex Salmond sampling some pastries as he opens a new social enterprise café  and catering company called 'The Fly Cup Catering Ltd"  (A fly is a colloquial Scottish term for a cup of tea and something tasty.)
It is obvious that the people attending this editorial meeting are happy at their work.  However, I am interested to find out how issues such as illiteracy can be overcome in a job which is focused around the written word.  Matthew says, "We tend to buddy people up, to that those who are not competent writers can dictate their ideas to a companion."
Once the story has been written up, it sent of to a volunteer who edits it and gets in shape for publication.  This seems to work really well.  Another story the team has put together concerns the fundraising exploits of Ian Napier who died recently.  Ian undertook marathon sessions dancing the twist in aid of local charities and is reckoned to have made around £100,000 over the years.
Of course websites play a key part in most modern businesses.  www.inveruriecommunitynews.co.uk is run by a wheelchair user who has little control over his movements.  He operates the computer by way of a small device attached to his forehead.
People become involved with the paper for a variety of reasons.  Some are assessed by a social worker as being at risk of social exclusion and isolation.  Others may be living independently and simply fulfilling a wish to find meaning in life when securing full time paid work is not possible.  It is a good way to meet other people who may be experiencing similar circumstances.